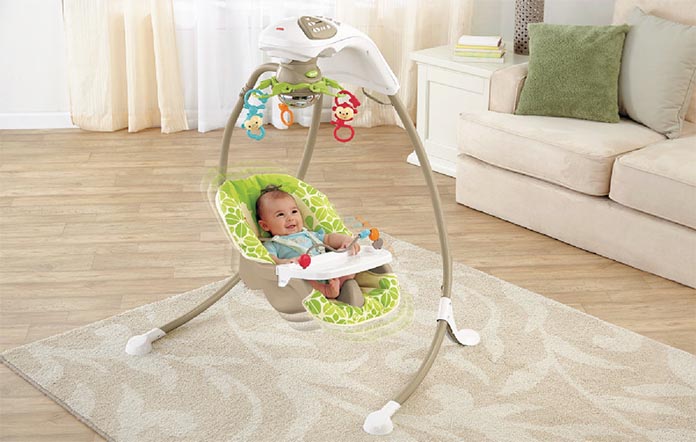 After 9 months in the belly of her mom, what's sweeter than the rocking of a baby swing for your little one?
Simple, suspended, musical or electric, there are a multitude of models to pick from, but not all are equal.
What are the selection criteria for finding the best baby swing that will meet your needs? How to make sure that the child will be comfortably seated and safe?
Here are the top rated products by parents.
Electric Swing 4moms mamaRoo
For trendy parents, the 4moms mamaRoo electric swing has a modern design and high technology, with Bluetooth connection.
The baby swing mamaRoo performs five kinds of physiological movements, all inspired by reality.
One allows you to swing baby exactly as parents' arms do, another replicates the swing of a trip by car, to overcome the most recalcitrant babies to fall asleep without arms.
The movements and sounds can be controlled remotely via the bluetooth connection, using a smartphone application provided by the manufacturer.
No need to get closer to manipulate the seat during baby's sleep to lower the sound or stop the movements.
The tilt of the seat adjusts to a fully extended position, for optimal comfort of the infant during his sleep.
Thanks to a baby gearbox, the latter is comfortably seated and reassured, well wedged. Small in size, this half-sized model can easily be placed on a table or in your living room. This is the best baby swing for small spaces.
Available in black, gray, silver or multi-color, we particularly like the trendy design and the neat finish of this electric baby swing. The model works on main, and is used from the  early months of the child, up to its 9 kg.


Fisher-Price My Little Snugabunny Cradle 'n Swing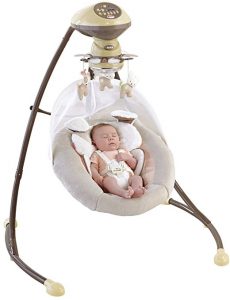 My Little Snugabunny Cradle n Swing from Fisher Price is the most popular and affordable of the stationary baby rockers.
It can be used for several functions: soothing, entertainment, rocking head to toe as well as side to side.
It boosts a SmartSwing Technology that starts without pushing any button and actually senses baby's weight.
Additional features include adjustable seat positions with various inclinations options: right-facing, center and left-facing.
It also has 6 speeds with 16 songs and 2 nature sounds.
The seat is very comfortable with a removable cover fabric which is machine washable.
Your baby will love the toy bar with a mirror that rotates with various animal figures.
The swing is easy to move around the house as it has foldable legs.
My Little Snugabunny swing is very easy to use as the control panel is accessible at the top of the swing.
Baby can safely be left alone to fall asleep or have fun. Baby will be safe thanks to the 5-point safety harness.


Graco Duet Soothe Swing & Rocker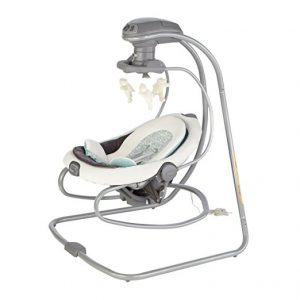 The Graco Duet Soothe Swing and Rocker is a 2 in 1 product: a baby swing and a rocker. When used as a swing, it's recommended for babies from 2.4 up to 13.6 kg.
As a Rocker it's advisable for infant from 2.4 to 11.3 kg. 6 speeds are available, as well as 2 modes of vibration.
The base has an integrated speaker with 10 melodies and 5 nature sounds to amuse your baby. 
Placed in height, baby can easily admire what is happening around him. 
This model has an arch with small toys to promote the learning of touch.  
At first sight the stability may seem doubtful because of the off-center support foot: it is not, the swing is very stable.  
From a safety perspective, it has a 5-point safety harness and a secure, stable base.
The model operates on main or with 5 LR20 batteries.



4moms RockaRoo electric swing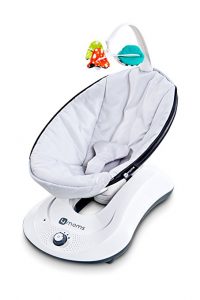 The 4moms RockaRoo electric swing is different from its competitors by the very large rocker movements from front to back that it offers. This inverted swing, similar to that of a rocking horse, maximizes the sensation of movement for the baby installed in it.
Equipped with 5 speeds, it is the little sister of the MamaRoo model with a nice design.
Compact, the 4moms RockaRoo baby swing is one-third smaller than traditional swings.
Equipped with a plug to connect an MP3 player, it allows moms to choose themselves the sound that will become the favorite of their little one.
A single electronic button makes it easy to control everything.
Removable hanging play balls stimulate baby's awakening. Easy to clean, the cover can be removed for machine washing.
We love the multicolored model very cheerful, but other colors are available, silver or gray.
This swing has an adapter to work on a power outlet. Announced for use up to 11.3 kg of the child, we will still respect the CE standard by limiting its use as soon as baby reaches 9 kg or when he can sit without help.


How to choose the best baby bouncer? We tell you everything!
Why use a baby swing?
If, during the first few months of his life, the baby first looks for the arms of his parents, he also needs to spend time, awake or calm, in a place that allows him to flourish freely.
The baby swing is an ideal childcare accessory for the child to observe the world, those around him, while feeling close to his family members.
Convenient to allow the baby to nap anywhere, the swing can easily be moved around the house, so that mom or dad can always have an eye on baby, especially during the first weeks of his life.
But the main asset of the swing is the movement it provides to the infant.
A gentle swing, similar to that provided by the arms of his parents that helps soothe and fall asleep. No need to spend hours cradling baby in the arms, the swing makes it for you! Many models offer accessories for stimulation and awakening of the child, including small hanging toys.
A swing is therefore an essential element for toddlers, to choose with care.
The selection criteria to take into account
Size
There is a multitude of shapes and sizes of swings. If you want to move it regularly, choose a model that is not too heavy and not bulky. So check the weight, which can go up to 15 kilos for some models.
If you plan to travel and bring your swing everywhere, there are foldable models with carrying handles.
Comfort
First and foremost, if you are planning to use a baby swing, make sure that it has a padding or reducer that can stall your baby. Head support is also essential, especially when the infant is still unable to maintain it alone.
It should preferably be chosen with a cover that can easily be removed to be machine washed. The inclination of the seat is also an element to take into account.
In everyday life, it will be more useful to have a baby swing offering the possibility of inclining in several positions. At least two positions seem essential, one adapted to the waking phases, the other allowing a total inclination horizontally to promote infant sleep. Also make sure that the safety harnesses have soft padding so as not to risk injuring your child.
Safety
Of course, the safety offered by the model must be considered carefully. The baby swing must meet European standards, guaranteed by the CE label (if you leave in Europe) or American Standards.
It is strongly suggested to buy model that are safe for your baby. A child-friendly restraint belt should ensure the safety of the child, without impeding or hindering his movements.
Prefer five-point harnesses that prevent toddlers from sliding too far or being under the seatbelt. In addition, the swing must have a base wide enough to appear sufficiently stable and not to risk wobbling under the effect of rocking.
Operating modes
As its name suggests, a swing makes it possible to swing the baby, and thus help him to sleep or to calm down. Some models are manual, others electric and thus ensure the movements alone, without one of the parents being forced to perform swings.
No need to stay next to baby until he falls asleep, so you'll have your hands free to do something else. A great time saver! It is important to choose a swing whose movement is smooth and steady.
Some models reproduce exactly the rocking that the arms would provide to the child, or the vibrations produced by a car trip. Who has never found that children fall asleep easily by car! Some swings have a remote control to adjust the swing away: practical to avoid waking baby with manipulations on the device when sleeping.
Finally, many models offer a musical option, which can be very pleasant to take baby in a world of sweetness. There are models offering music or soothing sounds, as well as others that can connect to smartphones via dedicated applications provided by the manufacturer. Whatever the model chosen, prefer a swing that can diffuse a soft and soothing, to the delight of your little one.
Power
Electric swings work either with batteries or by plugging them directly into the mains. Emphasize battery-compatible models if you want to use your swing everywhere, especially outdoors.
The sector power supplies, meanwhile, ensure never to be swaying!
Accessories
Some baby swing models have a game arch. It will interest your little past the first month of its existence. First useful to stimulate his visual awakening, it will allow him to have fun later by trying to catch him, and will save him long hours of trouble.
This will also contribute to the development of motor skills. If the model you choose does not have a game arc, check to see if it's easy to adapt one later. Some swings also have a hood, useful accessory, but not really essential.
The benefits for parents
The purchase of a swing must be motivated by the comfort it provides to the baby, but also by saving time for very busy moms. By choosing an electric model, which performs swinging movements automatically, baby will fall asleep alone.
No need to spend hours rocking your child or swinging. Thanks to an electric swing, baby can dive into sleep without the presence of his parents at his side.
Imagine, hours of gain on your sleep time or on your daily chores! The models allowing to place baby in height will not only be pleasant for the child, but also for the parents who will thus avoid having to bend.
Appreciable at the exit of maternity for mom, these models will be useful just as much later, limiting the risk of back pain. They may also be useful for isolating the child from a domestic animal, provided that it is not left unattended if the animal is strong enough to reverse the swing.
The benefits for the child
Cradled, coiled comfortably in her swing, baby will be soothed more easily than in a deck chair or a bassinet. The movements, from front to back or sideways, will give him a feeling of well-being that will remind him of the gentle sway he felt in his mother's womb.
This will allow him to fall asleep without fear, feeling safe. In the waking phase, baby will be installed snugly, and will be able to observe the world around him. By placing the swing near your activity centers, in the living room or in the kitchen for example, baby will feel like an integral part of the family, without feeling apart.
The movements of the baby swing will also prove very useful to soothe it in case of colic, reflux, or any discomfort. Reassuring, rocking will help alleviate your child's seizures, feel better, as it could be in your arms.
Models placing the baby high will allow him to not feel isolated. He will be able to observe the activities of his parents, which proves to be an excellent stimulant for his development.
In trying to catch the hanging objects, its arches games, meanwhile, will help improve his motor skills, including fine motor skills, while stimulating his eyesight. The baby swing combines, for your child, the benefits of a deckchair, a mat of awakening, while providing a gentle soothing swing.
Related Article